USA PROGRAMS
CULTURAL ARTS
The cultural arts programming that StarSpirit provides in schools serves to integrate the arts into the learning process. These programs also support teachers and administrators with the achievement of curriculum standards for their school's populations.
Using percussion music, songs and dances, students take a journey through the African Diaspora, and diverse cultures "come together" as students experience and learn about the roots of jazz, Latin music and contemporary dance music. Students are given the opportunity to play authentic African instruments and learn their names and the various ways in which they are used. Students learn the basic elements of music through experiential exercises that are stimulating and fun. These lessons allow students to work together, and utilize their creativity and critical thinking.
Cultural Arts Programming in Varied Settings
The cultural arts programming that StarSpirit provides can be adapted as a residency in a school setting, or arranged on a multiple day schedule to meet the needs of individual schools. This programming is also adapted to a variety of community-based settings, such as drug rehabilitation centers, nursing homes, youth detention centers, etc... Community-based programming also includes drum and dance classes offered for youth within their local neighborhoods.
Roster of Artists
The artists that are a part of the StarSpirit team bring a lengthy history of providing innovative cultural arts programming in schools and community settings, dating back to the early 1970s.
The premier teacher/performer on our roster, Nana Korantemaa, has been hailed as the "pioneer of cultural arts programming in the schools"! She is also a master female drummer and percussionist par excellence. Thus, through her leadership, StarSpirit has established a reputation of excellence.
Through over thirty years of dancing, playing music, and spiritual training, I have delved deeply into the healing properties of African dance, drum, and song. As a child, my passion for drumming was irrepressible, and I drummed on everything in the kitchen that made sound. As a teenager and young woman, I took formal lessons from artists in my North Philadelphia neighborhood who had studied with master drummers from Nigeria and Ghana. I eventually became one of the core members of Arthur Hall's Afro-American Dance Ensemble, starting out as the lead singer, and serving as one of the lead dancers before Chiefs and royalty in Ghana on a 1974 tour. This tour led to my spending 7 years in Ghana where I studied with master drummers and healers in the ancient Akan cultural tradition. Thus, as an artist, I am deeply rooted in the pure authentic drumming, dance, and songs of the Akan people of Ghana that goes back literally centuries. I am committed to preserving and ensuring that the traditional dance, song, and drumming of the Akan remains true to the precise formula-like cadences that are centuries old. This creates a mission for life: to teach and pass on the folk arts central to this ancient culture.
Arts Background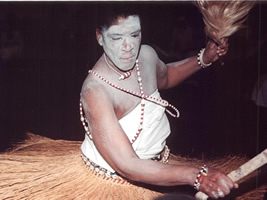 However, the drumming, dance, and music I teach encompasses much more. I have studied, collaborated, and performed with many male Master Drummers representing different African Diaspora traditions: Cuban, Brazilian, Haitian, Senegalese, Liberian. I have drummed for the Liberian dancer Kormassa Bobo during school residencies and her troupe's live performances. All that I learned I am also able to teach-being a multi-faceted true rarity: a female Master Drummer. Yet, I am also a multifaceted percussionist, singer, composer, and choreographer grounded in a diverse artistic community.
International Performances/Collaborations
Through international performances and travel to places such as Bahia, Brazil, China and Guatemala, I have connected with other women performing traditional music and the healing arts historically reserved for men. This allows me to serve as a powerful role model for girls and women. Regionally, I have also collaborated with female artists, founding the first female percussion orchestra in Philadelphia in the 1970s, and more recently collaborated with women from the Jewish and Cambodian traditions, performing live on the same stage. History was made at two such 2003 concerts, as I played large traditional sacred Ghanaian atumpan drums that have not been played heretofore by a female in the US or Ghana.
Empowering Female Artists/Apprenticeships
My work also empowers other female artists; for example, I have served as the master artist to the African American women's accapella musical group, NANIKHA--my apprentices under the sponsorship of the Pennsylvania Council on the Arts. The apprenticeship allowed them to expand their musical repertoire to include Ghanaian songs that I arranged and taught to them, culminating in them performing in concert with me at June 2003 and September 2004 concerts.
Residencies/Drum Circles
When invited to serve as a Master Drummer-in-residence at a school to create a Drum Circle, I bring all of this background with me. And, I bring my love for teaching children. I also absolutely love my audiences composed of senior citizens, the recovering chemically dependent, and any learner of any age or background open to new musical experiences.